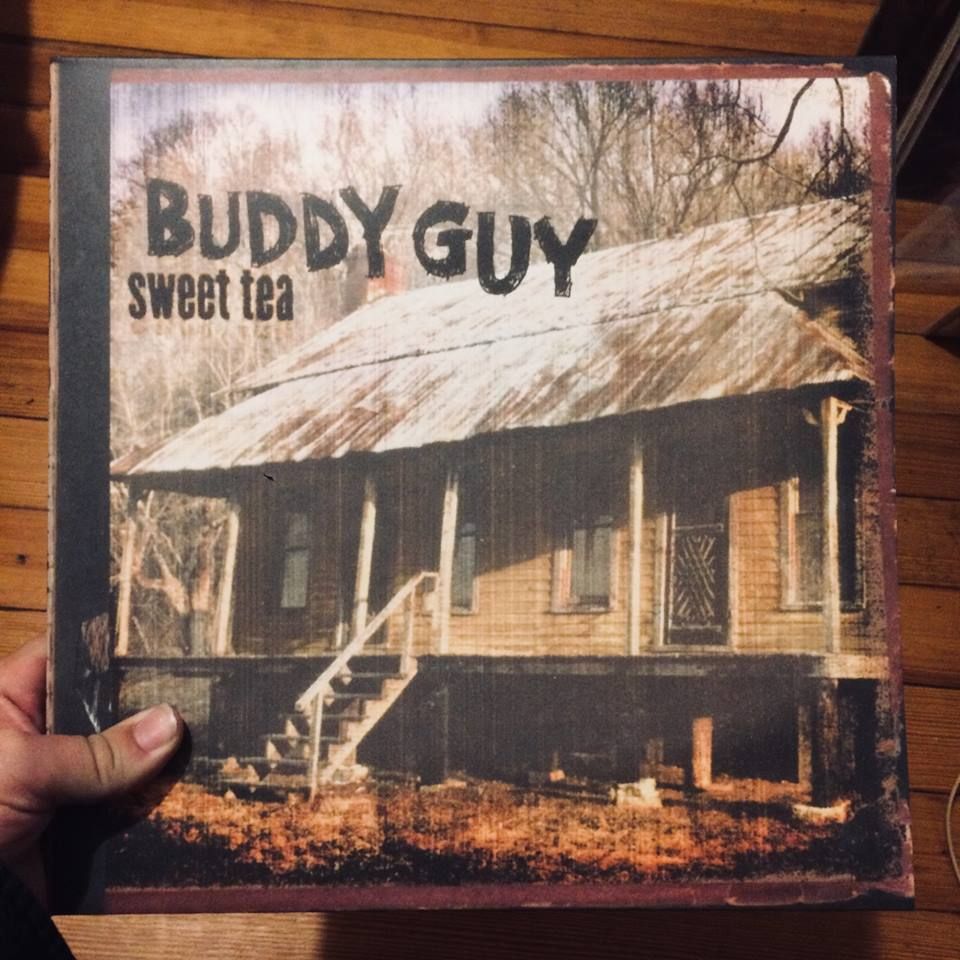 Listen, I first saw Buddy Guy when I was 17 years old.  My girlfriend's mom took us.  This was before he was signed to Silvertone Records and had his big comeback.  You know how he sells out all of those January shows every year?  At this point he wasn't selling out his club on a single night in March.  It was right before all of that.  I was a kid who knew the record Stone Crazy.  I also had the complete Chess recordings on CD and Alone and Acoustic on CD.  I was a fan yet I had no idea what I was in for.  Every note he sang, every note he played just set my brain and heart on fire.  I was never without goosebumps. The performance we witnessed was stunning.  It changed how I viewed the world.  The next morning going to school, life was different.  I tried to tell my friends about what I saw, some were interested, others just sipped their chocolate milk and looked at me like I wasn't sleeping enough.  I knew what was there though, I know what I saw.   
A few months later Buddy was signed to Silvertone and Damn Right I've Got The Blues Came out.  His come back was heralded.  I was fortunate to watch his star rise.  So was Chicago.  So was the blues community.  So was every fan.  Buddy deserved it. Buddy has a talent like no other.  He deserved to be on the big stages.  As far as I was concerned, everybody needed to hear Buddy.  Everybody needed to see and hear what I witnessed. I was a disciple and caught him every chance I could and bought every new record as it arrived.   
As far as his recorded output, it varied.  I enjoyed all of it, for sure. To me, some of the Silvertone albums had more guests than needed.  I mean, I get it.  They were designed to widen his audience.  These records had a larger vision than me just wanting to hear him play like he did in his club. People who maybe heard of Buddy but didn't really know him might take a chance on buying Feels Like Rain if they saw Bonnie Raitt's name attached to it.  But I was always a little let down.  Like I said, I bought everyone of those records and cherished them and there are some great moments.  In fact, there were no bad moments, but a few moments that, to me, didn't showcase what I knew to be true.  I feel bad saying that as I have a fondness for everything he has done and I love him and his music so much. But did I need Travis Tritt singing with Buddy?  No.  I was at the recording of his live record with G.E. Smith and the SNL band.  It was a great night, it was a great record.  But was it like seeing Buddy on a normal night at his club? No.   
I'm picking an oddball here as my favorite (so far) from the Silvertone years, Sweet Tea.  It's odd on multiple levels.  There are no real guests on it (he was able to rid of that on the excellent Slippin' In record) but also the material was not really the material that Buddy was known for.  This was hill country blues.  This was more Junior Kimbrough than Junior Wells.  I'm sure for that reason alone it alienated some fans.  The songs were long, they were almost drones. I've heard multiple people say that Buddy himself was disappointed with the direction.  I can understand.  Completely. But I'd like to offer a different perspective.   
Sweet Tea was recorded at Dennis Herring's studio of the same name.  It's a funky old house.  The concept of the album was to have Buddy let go and show off his guitar and vocal skills.  The idea was to give him material that would help him let loose in the studio like he did at a show.  These recordings were not made for radio play.  These songs were not playing it safe in the studio in hopes someone new would give Buddy a chance.  These recordings were made to be played by fans on a late Friday night after a little taste of whiskey. This record was made for dancing with your girl when the lights were low. This record was made for people who had witnessed the power and the glory of his voice and guitar.  This record was Buddy unencumbered.  This record was Buddy Guy stone crazy. 
The sonics of Sweet Tea work well for me.  The drums are big, loud and roomy.  You can feel the cigarette smoke in the bar in between the snare and the bass guitar.  The rhythm guitar (Jimbo Mathus) sounded as drunk as he was (more on him later).  And Buddy…Buddy sounds wicked.  Buddy plays his ass off.  Buddy sings like no other.  I've sat here over the last few minutes trying to use all of the clichés one uses to describe his sound on this record.  'House on fire', 'man possessed' but there are no clichés that can accurately convey his performance on these tunes.  This is Buddy Guy.  Or as Mick Jagger once called him, 'Buddy motherfucking Guy'.  This is the baddest man on the planet.   
I had the pleasure of talking to Jimbo Mathus about these sessions.  Not only did he play rhythm guitar on the tracks, he also helped hire and arrange the band.  When I brought up Sweet Tea to him after way too many cocktails in Atlanta, Georgia, his smile got real wide.  It's been years since we had the conversation, so I don't want to quote him directly.  But the gist of what he had to say was this. They tried to set up the studio to be a like a bar to get Buddy comfortable.  They hired a cute bartender to serve drinks.  They had a ton of old amps and gear.  They thought Buddy would love it there.  Overall it really wasn't his thing.  He wasn't as interested in the material.  I think they were all perplexed as they thought this would be a project he would really enjoy.  Regardless, he came and he sang and he played like nobody's business.  And the comment I CAN quote and will never forget from Jimbo is 'when he'd get really mad that's when we turned on the tape.'  Damn right.   
As the needle drops, we hear Buddy singing that he 'done got old' on an out of tune archtop.  It's real.  It's hollow yet warm.  You feel like he is on the couch next to you at about 4:30AM after the evening has come and gone.  The second tune Baby Please Don't Leave Me is a fucking masterpiece.  Davey Faragher and Spam are the rhythm section.  That's right, I said Spam. They lay down a groove that feels like you are taking a slow rollercoaster car ride into hell.  It's low.  It's funky. The heat is latent until Buddy arrives.  The thing about good blues music is it can be heavier than any other kind of music on the planet. Their cadence tells you, you aren't home anymore.  And while you might be scared, you also might not want to ever go home again.  Jimbo's guitar reeks of reverb, sweat, whiskey and strings that needed to be changed a year ago.  And if that ain't enough, Buddy comes in loud, clear and projects as the genius we know he is. God damn, as great as that groove is and that rhythm guitar, Buddy comes over the top of it hovering. You have no choice but to listen.  
There are weird things happening throughout Sweet Tea.  Sometimes when he is soloing the reverb on his guitar comes up and down as someone would be adjusting it while he was playing (Dennis Herring said Buddy really dug that).  There are guide vocals that were scrapped that are still buried in the track.  This record is not for the faint of heart.  Other tracks and tones that blow my mind, She Got The Devil In Her, Tramp and the incredible 12 minute I Got To Try You Girl.  
The record is full of grooves that let him let go.  The songs are minimal.  And for all of the rumors that he wasn't a real fan of this album, you can still hear him yelling 'yeah' as he is tearing into a solo.  I doubt it was all a negative scene, it just wasn't the blues he was used to.  And given the records that were made before Sweet Tea, I'm sure he wondered, 'who the fuck wants to hear this?' Answer, I do and countless others.  This record has one agenda, to showcase Buddy Guy as one of the baddest musicians on the face of the Earth.  While it is hard for me to hear that he might not have enjoyed the record or the process, I am so grateful he stuck it through and made it happen.  Buddy has made some good records since his 91 comeback, but this record doesn't feel associated with them. This is another language. This is like getting something you aren't suppose to have but have always desired.  This record is like being in a closed club in the wee hours.  This record is like hearing Buddy just playing and singing without having to think about pleasing his audience or his label or whoever.   
When the album came out in 2001 it was not on vinyl.  I am pleased to say the good people at Music On Vinyl released a 2XLP version over the last year that showcases its sonic glory just as these ears want to hear.  MOV has done a great job reissuing records.  The masters they use either come from tape or a digital transfer but never come from a CD source.  You can buy this one with pride.  You can drop the needle, make sure the volume is cranked and get let into a world of where Buddy's voice and guitar and the overall groove and sound come first.  This record is not like anything else in his catalog.  I urge you to check it.